Ecumenical is a word some may be unfamiliar with.
One definition of ecumenical means "relating to the worldwide Christian church." A broader understanding is "establishing and promoting unity among religions." More generically, ecumenical simply means "worldwide; universal."
In simple terms, I understand ecumenical to mean unifying.
Towards this goal, three ecumenical—that is, unifying—guidelines advance our understanding:
"In essentials, unity;
in non-essentials, liberty;
in all things charity."
Though the author of this brilliant advice is in debate, its wisdom is not.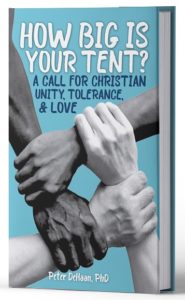 May our list of essentials be short, our non-essentials held loosely, and our mercy and tolerance without limit.
[This quote is often attributed to Augustine, but cannot be confirmed. John Amos Comenious advocated this in the 1600s and he may have been citing Peter Meiderlin.]
Read more in Peter DeHaan's book How Big is Your Tent? A Call for Christian Unity, Tolerance, and Love. Get your free copy today and discover what the Bible says about following Jesus